Acrophobia or the irrational fear of heights is quite common, some may vary with the severity but one thing is for sure, they're not comfortable in high places. But some may argue that the higher you are the more vantage point you get and this would entail seeing the best views of the place. Across Europe there are just so many bird's eye-view tourist attractions that are not for the acrophobic but definitely for thrill seekers.
Dachstein Galcier Skywalk, Austria
An acrophobic's worst nightmare would be a stairway high up in the mountains which leads to nothingness. It may be a bit scary even for those without the non-clinical phobia but there is actually a place called Stairway to Nothingness, and this is in Austria. With a stellar height of 8850 feet, the Dachstein Glacier boasts 14-narrow steps that leads you to a small platform made entirely of glass which gives you the feeling of being suspended high up in the air on top of snow-capped mountains.
The Sphinx Observatory, Switzerland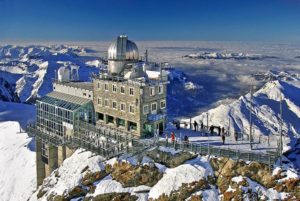 At 11,332 feet stands this astronomical observatory above the Jungfraujoch in Switzerland and is named after this snow covered rocky cliff it is perched on. The Sphinx Observatory won't test your hiking skills and endurance because you can just ride one of the trains in Jungfraujoch railway station. The panoramic view of the icy peaks and snowy landscapes you'll see up there is just breath taking.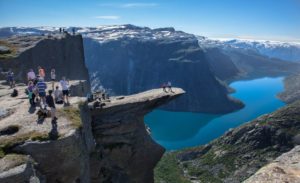 Trolltunga, Norway
Trolltunga, which translates to troll's tongue in English, is a thin slab of rock that extends out horizontally into a dizzying 2300 feet above the Ringedalsvatnet Lake. It's an Instagram-worthy place but before you reach this vantage point of the gorgeous ravine below, you need to hike a total of 10-12 hours which will really require real trekking expertise because of the difficulty of the climb.
Alpspix Viewing Platform, Germany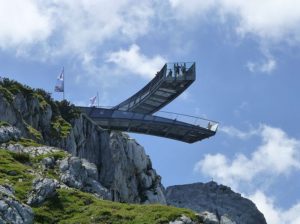 The two crisscross bridges is a unique structure that offers a panoramic view of the stunning Alpspitze mountainscape and the neighboring Zugspitze, the highest peak in Germany. It may not be a comfortable place for those who are afraid of heights, but for those who are adventurous enough, this 8600 feet (from the ground) platform injects the right amount of adrenaline.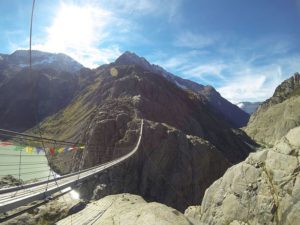 Trift Bridge, Switzerland
What can be more terrifying than a suspension bridge high in the Swiss Alps? The Trift Bridge is a pedestrian-only bridge that is 170 meters in length and is the safe alternative in reaching the Trift Hut of Swiss Alpine Club. The feel of the cold wind on your skin while walking across this 100 meter high bridge is the best place to get a 350 degree view of the blue lake and the spectacular rocky glacier.