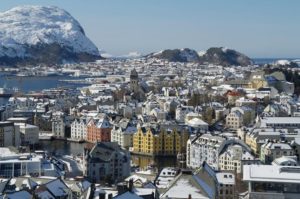 Aalesund is perhaps the most beautiful city in all of Norway. After being devastated by a raging fire in 1904, the city was rebuilt in the distinctive Art Nouveau style with local architects adding their own unique touches. Today Aalesund resembles something from a fairy tale with its buildings brightly colored and decorated with spires, turrets, and ornaments. Here are the top must see attractions in Aalesund, Norway.
Take a Walking Tour Around Aalesund
A guided walking tour around Aalesund is an excellent way to see these intricate facades up close. You will have the benefit of a knowledgeable local guide who will make sure you don't miss any of the highlights. They will also tell you the captivating story of how Aalesund rose from the ashes of the devastating fire. On a recent trip to visit family, the owners of Performance Chiropractic + Sports Rehab spent countless hours just exploring Aalesund and shared some amazing stories with me from their adventure.
Mount Aksla
To see Aalesund in all its colorful beauty, a journey up Mount Aksla is a must. Here the panoramic views are simply stunning. You will be able to see the archipelago of tiny islands that surround Aalesund which were the center of power during the Viking Age. Thanks to a series of bridges and tunnels, it is now easy to explore these quaint islands by coach. There are over 400 steps you can climb here but only do this if your health supports it. However, there are restaurants and cafes at the top of Mount Aksla where you can replenish your lost energy with some ice cream and water.
The Island of Giske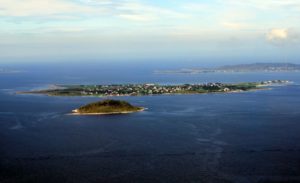 The island of Giske is home to one of Norway's most remarkable churches. Built from white marble, this church dates back to the 12th century and was once the private chapel of a local family.
Alnes lighthouse
Over on the island of Godoy, you will find a pretty Alnes lighthouse. If you climb to the top on a clear day, you will be rewarded with lovely views of the Atlantic Ocean.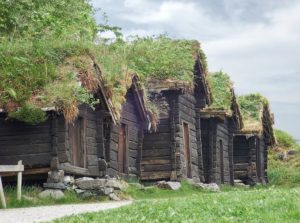 Sunnmoere Open-air Museum
Back on the Norwegian mainland, Sunnmoere Open-air Museum is a fascinating place to visit. With its vast collection of old timber houses and boats, this museum provides an insight into how the Norwegians lived centuries ago.
Atlantic's Art Nouveau
Another of Aalesund's popular attractions is the Atlantic's epoch built into the Atlantic coastline. The park is home to an array of Norway's weird and wonderful sea life. It is an ideal option if you would like to do something a little different when ashore in Aalesund.